Florida gets an "F" on health care price transparency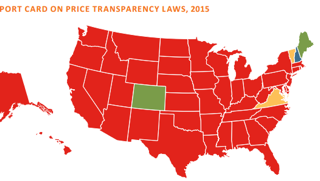 Red represents U.S. states that received a "F" on health care transparency.
Florida's report card isn't looking good.
In a report from Catalyst for Payment Reform and Health Care Incentives Improvement Institute, all 50 U.S. states were given a grade based on its health care transparency laws. Florida, along with 44 other states, failed.
Here are the five states that did not receive a failing grade:
New Hampshire, "A"
Colorado and Maine, "B"
Vermont and Virginia, "C"
This report comes less than a month after another study found Florida has 20 of the 50 U.S. hospitals that price-gouge patients the most. Locally, Osceola Regional Medical Center made the list.
Jason Brodeur, Florida representative from District 28, recently said at Orlando Business Journal's Doing Business in Seminole County event that state lawmakers are looking at ways to start making hospital prices more transparent. He previously told OBJ that a direct primary care model is being explored, which would make paying for health care similar to paying for a gym membership. Consumers would pay a set monthly price for a set number of doctor visits.
Do you think Florida should adopt a direct primary care model for health care? Let us know in our poll.